About GPS METAL SRL
Built on a solid background in steel industry GPS METAL offers you metallurgical equipment and machinery for steelmaking, rolling, forging, finishing, machining and other metal processing equipment. Our source for machines is The Romanian Steel and Heavy Machinery Industry which suffered a severe restructuring in the last 10 year and a lot of equipment became available. 
We are leading on this market in Romania and can offer equipment and used machinery in all these fields:
Electric Arc Furnaces, Argon Oxygen Degassing Unit, Vacuum Induction Melting, Electroslag Remelting.

Used Blooming Mills, Billet Mills, Bar & Shape Mills, Rod Mills.

Used Seamless Tube Hot Mills, Cold Pilger Mills.

2Hi and 4 Hi Cold Rolling Mills.

Finishing Equipment: Straighteners, Peelers, Shavers, Centerless Grinders.

Used Hydraulic Free Forging Presses, Close Die Forging Presses, Trimming Presses, Forging Hummers, Upsetters.

Stamping Presses, Shears, Roll Bending.

Used Heavy machine tools: Engine Lathes, Vertical Lathes, Horizontal Borers, Gear Cutting & Grinding, Plano Millers. 
We can also offer complete plants in other fields such as: Paper Plant, Cast Iron Pipe Plant. We can Identify Equipments at your request or even predict future availability of these types of equipment and machinery. We invite you to visit our web site and to contact us with your inquiries.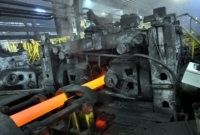 GPS METAL SRL
General Ioan Culcer no.25, sector 6, Bucharest, Romania
Phone: +40722.568.066 
Fax: +4021.412.01.23